Riding lawn mower

TUNE-UP
Tuning-up your riding lawn mower will help keep it running correctly for many years.  Let us help you maintain your equipment so it runs reliably throughout the season.
Click here to see what this service includes
Oil service: drain and replace with new
Sharpen blade
Balance blade
Level deck
Inflate tires to proper pressure
Blow out and clean cooling fins on engine
Blow out and clean cooling fins on transmission
Check/adjust engine run speed
Tighten all nuts, bolts and screws
Clean debris and grass build-up from under deck
Clean debris from top of deck
Check/replace oil filter
Check/replace air filter
Check/replace fuel filter
Check/replace spark plug
Grease all zerk fittings
Lube all cables
Check drive belt
Check deck belt
Lube idler pulley(s) and tensioning springs
Wipe down and clean machine
REPAIRS
If your riding mower needs repairs to make it run properly, we can do it!  We stock many common parts on our vans.  If we don't stock the part you need, we can order it locally or from a national supplier.  We will shop multiple sources to make sure we provide you with the best possible price.
Click here to see a list of common repair items
Carburetor cleaning, rebuild, replacement (see our "CARBURETOR REPAIR" page for additional details
Wheel repair or replacement
Drive system repair
Cable replacement
Belt replacement
Ignition modual (magneto)
Tune-up Pricing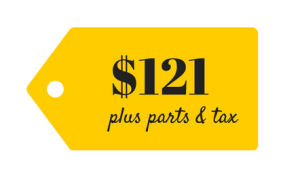 NOT ALL PARTS NEED TO BE REPLACED EACH TUNE-UP.  We will evaluate the existing parts and replace only the ones that are no longer functioning properly:
oil ($9.26)
spark plug ($3.25)
oil filter ($7.75)
fuel filter ($10.25)
air filter (varies but usually about $14.25)
2016 average price for parts was $22.44 (total) per machine